SJSZ series conical twin screw extruders are suitable for processing all kinds of PVC power, which can produce PVC pipe, profile, sheet, board, bar and granular with different die heads and auxiliary machines.
Below are technical data of some SJSZ series conical twin screw extruders and barrel screws.
Model
SJSZ

Screw Diameter
Ø/mm

Screw Length
L/mm

Driver Power
KW

Screw Speed
rpm

Output
(PVC) kg/h

Ø

51

51/105

1050


22

36.9

150

Ø55

55/110

1200

22

36.9

200

Ø65

65/132

1440

22/37

36.9

300

Ø80

80/156

1880

55/75

34.7

360

Ø92

92/188

2500

75/90

34.7

750
The conical twin-screws and barrel is the core component of the conical twin-screw extruder. The quality of the screw and barrel directly affects the output of the extruder, the quality of the plastic products and the working life of screw and barrel. Zhoushan Hina Mach Co., Ltd. focuses on the manufacture of conical twin-screw barrel and strictly controls the quality. We strictly select materials, the screws and barrels are made of 38CrMoAlA nitriding steel, which has high hardness, good wear resistance and corrosion resistance. We strictly implement the production process of the enterprise to make the screw barrel reach the optimal mechanical properties. For different raw material formula and final product, we have different screw design, so that the plastic products are better and the extruder output is high.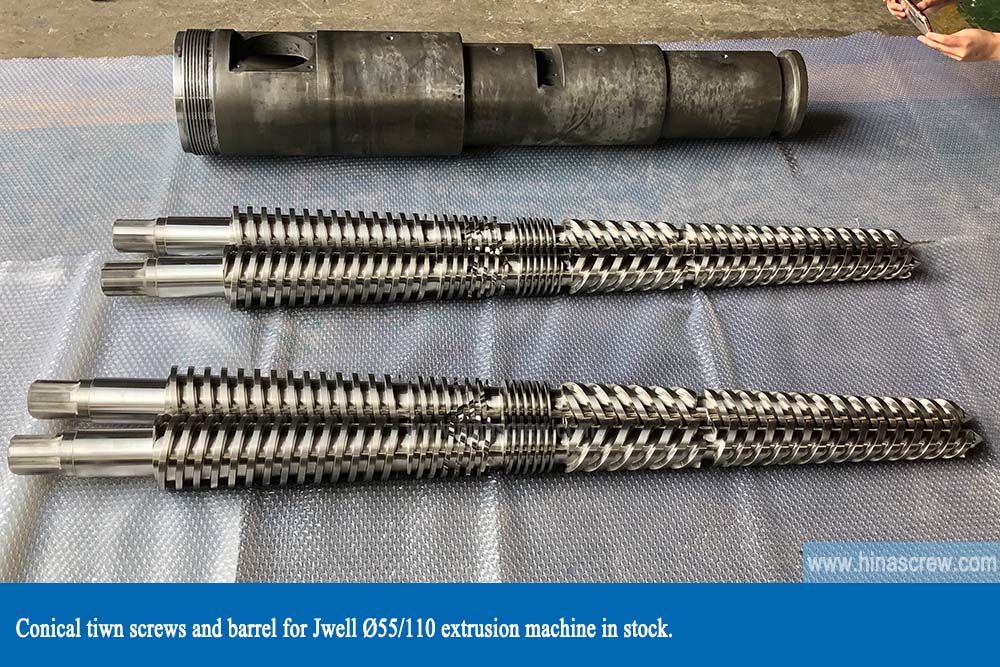 Specification of SJSZ series conical twin screws and barrel: Ø45/90, Ø45/100, Ø50/105, Ø51/105, Ø55/110, Ø55/120, Ø58/124, Ø60/125, Ø65/120, Ø65/132, Ø68/143, Ø70/135, Ø70/140, Ø75/150, Ø80/143, Ø80/156, Ø92/188
The above are standard specifications, we can customize according to customers' requirements.
Technical parameter:
Hardness after hardening and tempering: HB280-320
Nitriding hardness: 950-1100HV
Nitrided layer depth: 0.5-0.8mm
Nitrided brittleness: Less than grade 2
Surface roughness: Ra0.4
Linearity of screw: 0.015mm/m
Bimetallic layer depth: ≥3mm
Bimetallic hardness: HRC60-72
Hard-chrome plating hardness after nitriding: ≥950HV
Chrome-plating layer depth: 0.025~0.10mm
Material:
High-quality alloy steel
38CrMoAlA (JIS SACM645)
9Cr18MoV
Treatment:
Nitriding
Alloy powder spray welding